Listen to "Bicycling in the Bushes of Utrecht"

Podcast: Play in new window | Download (Duration: 15:48 — 14.5MB)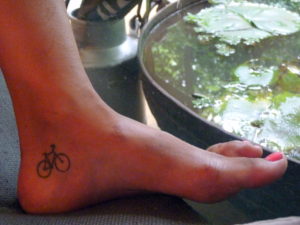 Has it been a long time since you've had your seat in a bicycle saddle? Maybe you don't even know how to ride a bicycle? Can you imagine getting to a party being as fun as the party itself, or more? Does the weather deter you from riding your bicycle for transportation?
In this short interview, Ms. Ivnoor Shergill shares how she got herself on a bicycle after many years when she was on a study abroad program in Utrecht, Netherlands. Her exhilaration is palpable, her enthusiasm contagious. She loved being outdoors, even in the cold and the rain.  She enjoyed using her own body energy for transporting herself around town. She relished  bicycling so much she got a tattoo of a bicycle on her ankle!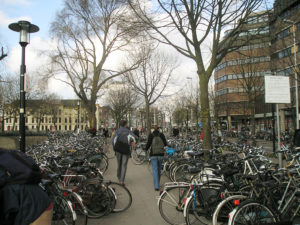 Ivnoor happened to land up in Utrecht without knowing she was headed to a serious cycling city. The daily bicycle census is easily 100,000, rain or shine. Believe it or not, the city wants to encourage even more bicycling. So transportation planners are giving priority to promoting bicycling. In addition to the signature European bicycle paths, the city is investing in other infrastructure essential to making bicycling convenient and safe.  Utrecht will soon host the largest bicycle parking in the world with a capacity for 12,500 pedal powered vehicles. The Utrecht Central Station already can accommodate 12,000 bicycles with plans for 33,000 spots by 2020. Ivnoor tells us the precedence given to the bicycle is reflected in the common cultural practice of giving right of way to bicyclists over cars and even pedestrians.
Anyone familiar with traffic culture in the Bay Area will appreciate the growing number of bicycle paths, and the wide range of respect motorists offer bicyclists. Pedestrians always have the right of way in Berkeley. The liberal leftist leanings of the Bay Area encourage taking care of the weakest, slowest, gentlest among us. It's just a tendency, with plenty of exceptions, not a regulation. Anyone who has spent time in a city in India will recognize the rule of the road is the biggest vehicle wins. Bicyclists and pedestrians are the lowest on the totem pole. I often wonder if the culture of the caste system has seeped into the codes of conduct. Just a theory, not a fact.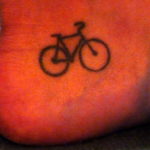 There's plenty of facts and figures about the advantages and benefits, as well as the dangers inherent in bicycling for transportation and recreation. This delightful conversation with Ivnoor is meant to inspire you to consider what bicycling means to you. I'd like to hear about your thoughts and feelings about getting on a bicycle and riding the streets of your town. What's your inspiration and motivation? What are your fears and obstacles? Can you find a bicycle you can afford? Do you have access to enough fuel? Does the infrastructure make it safe and convenient? Are your streetmates supportive? Are your friends and colleagues ready to ride with you? What is your experience? What are your ideas to make bicycling better in your town? Nei Jing Now listeners all want to know.