Listen to "Bum on the Saddle in Bandra, Bombay"

Podcast: Play in new window | Download (Duration: 17:56 — 16.4MB)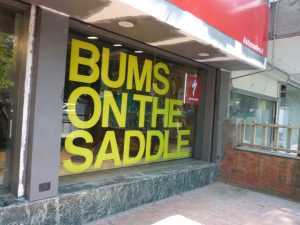 Who wants to bicycle around Bandra, Bombay, besides an expat classically trained cellist? In this short podcast, North American born Mumbai based cellist,  Jake Charkey, tells us what it is like for him bicycling around his Bandra neighborhood.  Mumbai is a metropolis of over 20 million people, fully polluted with choked traffic at all hours of the day. The number of car owners has gone up by over 50% in the past seven years. On the bright side, bicycle sales have also increased by 10-15% per year for many retailers.  There are now social networking sites for bicyclists in India and growing enthusiasm for commuting by bicycle. But there's a long way to go before there are enough bicyclists out there to make a difference in air quality or traffic flow. It seems the commute in Mumbai for those in the saddle is still far more pleasurable than sitting in traffic jams.  The Open Bicycles Project of Mumbai collected some data about the needs of bicyclists in Bandra back in 2009. It's probably time for a follow-up. Equal Streets is a coalition of citizens groups, cycling clubs, NGOs and residential welfare associations that work together to close off a section of the roads in Bandra every Sunday morning to reserve the space for pedestrians and bicyclists. Join them if you are in the neighborhood. There are lots of people to connect with for anyone who wants to join the efforts to improve the quality of air, decreasing noise pollution, increase fitness, and get places faster with more fun. If you have a bicycling in India experience to share with Nei Jing Now, please leave a comment or contact me and we can get your story heard too.