Listen to "The Imperial Throne?"

Podcast: Play in new window | Download (Duration: 59:56 — 54.9MB)
For most of us the acronym WTO stands for the World Trade Organization, and for some of us WTO also stands for the World Toilet Organization.  Last week the latter WTO, the Indian government, and the World Education Foundation, jointly organized the 14th Annual World Toilet Summit  in Delhi. As it happens, under the Swachh Bharat Abhiyan (Clean India Mission), the Modi administration has established a goal of building over 100 million toilets in the next five years. Although the event was held in India, and much of the focus was on sanitation issues in India, toileting is a major global issue. The solutions to the sanitation crisis are varied, and should be. Even if you think the "developed" world has a handle on human waste, think again. We are heading into an era of a massive fresh water shortage and the current model of pooping into fresh water and then taking the poop out of the fresh water is not a sustainable system. We need new approaches to handling our human excrement everywhere that are culturally and economically appropriate.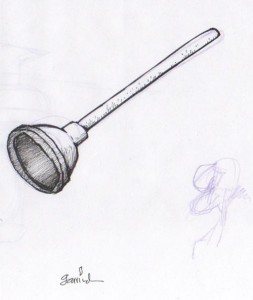 This World Toilet Summit focused on how to drive market demand for toilets, rather than depending on the NGO sector to donate toilets in poor communities. Toilets, apparently are not only good for public health, but they also offer entrepreneurs a great business opportunity.  The push for market driven solutions to tackle open defecation is being advocated by The Toilet Board Coalition, launched by Unilever on 19 Nov 2014, World Toilet Day. Unilever is the parent company to about 400 brands of everyday household use products such as Lipton, Knorr, Dove, Axe, Hellmann's, Omo, Blue Band, Pureit and Suave. According to Professor Nikhil Agarwal, President of Cambridge Global Partners and Founder of Entrepreneur Café, in India alone there are 676 districts, each requiring at least 500 suppliers.  He estimates that "The Toilet revolution itself would generate around 25,000 new entrepreneurs and further provides 1 million jobs for plumbing, maintenance etc." For a toilet doesn't stand alone. It needs a room for privacy. It may or may not need a water supply for flushing, but water is required for personal hygiene after the deed is done. Don't forget about the soap too. Then there's maintenance, cleaning products, and of course disposal of the humanure. The idea is to make toilets a sexy commodity, market them not as a necessity but as a luxury. Give toilets status so that people want to use them, and of course, buy them. Making toilets as desirable as a television set, bicycle, or mobile phone, could nudge a poor person's priorities towards the former by a smudge.
That idea works for those who can afford it, and they/we probably already have a toilet system. The global sanitation problem is often one of affordable access, not choice. Pooping should be a private affair, but whether it should be privatized is another question, particularly when it pertains to poor people needing a safe place to dump their load. But it is natural for entrepreneurs to seek profit anywhere. There's all kinds of crap for sale, so why not crappers too. Even though the story about the Japanese scientist who turned feces into burgers wasn't true, people can still sell their excrement in order to pay for their toilet system, thanks to the OpenBiome project. OpenBiome buys your  waste and then sells it to treat gastrointestinal infections that are resistant to antibiotics. There are a range of disorders that respond to a balanced intestinal microbiome, including inflammatory bowel diseases (Crohn's disease and ulcerative colitis), dysfunctional carbohydrate metabolism (obesity), and immune system dysfunction (allergies, autoimmune disorders, cancer). Fecal therapy may just be the next big thing. (Selling human organs is also a sort of market driven solution to the organ shortage and the poverty crisis.)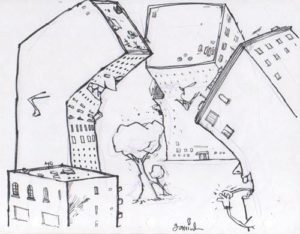 This episode of Nei Jing Now! delves deeper into topics we've discussed in previous episodes. In Take Your Microbiome to a Savannah, Bugs 'R' Us, and Extestinal Bacteria, we discussed the importance of the bacteria in our intestines and their relationship with bacteria in the environment. Professor Jennifer Wolch, Dean of the College of Environmental Design at UC Berkeley and Professor of City and Regional Planning, talks with us about how we can build more bugs into our lives by improving our exposure to a large range of biological organisms in order to maintain a healthier microbiome within our bodies. She is one of the pioneer investigators of animal-society relations in cities, and has proposed strategies for human-animal co-existence in an urbanizing world. As she also has an expertise in urban homelessness and the delivery of affordable housing and human services for poor people, she also shares her perspective on access to toilets for that population within the United States.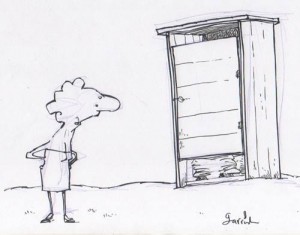 Jeff Conant, an author, journalist and environmental human rights campaigner, returns to Nei Jing Now! to explain how imperialism has shaped the ways in which we not only manage our human waste, but even why we think of our feces as waste. In a natural system nothing is wasted. He gives us a brief history of how we went from the earth closet to the water closet to our current system of plumbing and sewage treatment. Empire require the enslavement and domination of nature and weaker people. When viewed through this lens we can see clearly how we have enslaved and defiled water, an indispensable component of our bodies and lives, to do our bidding by relinquishing personal responsibility for our poop and dumping its management on whoever is most desperate for work and life. I recommend taking a listen to the previous conversation with him in the Extestinal Bacteria episode as well.
Finally, we hear from friends and family about their views on the (Western) commode, the (Eastern or Indian) squatting toilet, toilet paper, and other matters of convenience. Satya Lakshmi Komar Raju is a naturopathic physician in Hyderabad. Shailaja Kalle is a solo permaculture farmer in one of the driest districts of Andhra Pradesh. We hear from the entire Bhalla family in Jalandhar: the late Grandfather Dharamvir*, Grandmother Sarla*, Uncle Atul, Auntie Manjula, and sisters Saryu and Ojaswi. At the time of the interviews they were respectively ages 76, 67, 43, 43, 17, and 14. From California we are joined by Timothy Gholston, RN, and media designer, Reena Karia.
To sit, or to squat, that is the question—
Whether 'tis Nobler in the bum to suffer
The splashes of brackish water,
Or to bend deep into the knees despite the trouble,
And without pushing, evacuate? To wipe, to flush—
No more; and by a wash, to say we end
The Strain, and the thousand Natural Sounds
That the Colon inherits? 'Tis a constipation
Devoutly to be shunned. To wipe, to flush,
To wash, perchance to Stream; Aye, there's the rub,
For in that wash of bum, what dreams may come,
When we have shitted out this mortal waste,
Must give us rest.There's the respect
That makes shitting by sitting take so long:
For who would bear the time,
The Commoder's are wrong, the proud man's Consuming,
The pangs of impacted Feces, the Leaving's delay,
The insolence of The Office, and the Bums
That patient merit of the unsuccessful trials,
When he himself might his Water make
With a bare Bumkin? Who would these Farters bear,
To grunt and sweat under a sedentary life,
But that the dread of hemorrhoids,
The undiscovered alley, from whose
No Shit returns, Puzzles the will,
And makes us rather bear those ills we have,
Than squat like others that we know not of.
Thus Squatting does make Cowards of us all,
And thus the Knees of Resolution
Are crippled o'er, with the pale cast of Replacement,
And enterprises of great flush and forget,
Would disregard their bowels turned awry,
And lose the name of Action. Soft you now,
The fair Log. Bricks, in all thy Orifices
Be thou all my feces forgotten
-jaysi, 2015
Meet Mr. Toilet | Jessica Yu from Focus Forward Films on Vimeo.
*Timothy Gholston voiceovers for Dharamvir Bhalla, and Reena Karia for Sarla Bhalla.