Listen to "Education is the Holy Grail"

Podcast: Play in new window | Download (Duration: 23:10 — 21.2MB)
This week was National Teacher's Week in the United States of America. (It was also National Nurse's Week too.) It's a time to bring our attention to the place of teaching and learning in society and the appraisal we give to both. It's nice that teachers, and nurses, get acknowledged in some way for the very important work they do. Flowers, cards, presents, and good wishes are sweet, but tangible appreciation in the form of safe, healthy, supportive working conditions and salaries commensurate with their value to society would be far more relevant and worthwhile. Whereas the nurses in this country have a very strong union and are able to advocate for safer, better working conditions and proper pay, teachers don't have it as easy. We bear a collective responsibility for that fact.
In this short clip we hear the experiences of two former science teachers from Kennedy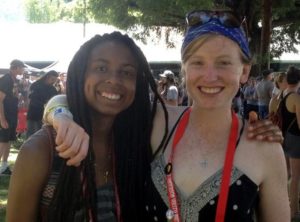 High School in Richmond, CA, Ms. Katie Lenahan and Ms. Folashade Modupe. Since the recording of this conversation, over a year ago, both of them have moved on in their respective career paths. Ms. Lenahan is now directing a science outreach program for underrepresented youth in grades 6 – 12 at Oregon Health & Science University. Ms. Modupe is just starting her 3rd year of medical school at the University of California San Francisco. The kids at Kennedy High were blessed to have these dedicated, bright, caring teachers working with and for them, even if only for a few years.
Kennedy High School is located in West Contra Costa County, California. California has the worst public school system in the nation, ranking 50th in teacher to student ratios, 42nd in per pupil expenditure, and 51st, last, in guidance counselors per student. (EdSource, California Rankings, 2008-09). Though I couldn't find documentation of how Contra Costa County ranks in comparison with other counties in California, no school in West Contra Costa County had an Academic Performance Index greater than 850, 1000 being the maximum and 962 the top scoring school. (For documentation on different California districts, The Education Trust-West provides report cards and regional maps.) West Contra Costa County Unified School district ranks second to the last in Contra Costa County, and Kennedy High School ranks somewhere between 2nd to 4th from the bottom in the district. These rankings are based on the results of standardized test scores and a few other measures. I applaud Katie and Folashade for serving "in the trenches" and sharing with us their first-hand experiences. There have been no drastic changes since their tenure in the respect we show for teaching and learning as vitally important occupations for individuals and society.
Having survived many standardized multiple choice tests, as well as decades of  industrialized, homogenized, institutionalization in the guise of "higher" education, I can attest to the inhumanity of this way of measuring learning. I've also had the experience of volunteering my time for years teaching medical students the fundamentals of practicing good medicine, with attention to listening, language, and detail. Leading and facilitating a weekly yoga class that approaches the practice in a way that leads the students to greater happiness and freedom has been another source of satisfaction. And this very satisfaction has been the main inspiration and major reward for all my teaching efforts. Nothing less, and nothing more.
Teachers deserve more. More support, more respect, more honor, more remuneration. Teaching and learning are sacred endeavors.  They are the "holy grail" of the world, as Folashade put it so passionately. Each of us is responsible for ensuring that educators and learners are equally protected, nurtured, and sustained so they can carry us all forward together.  There are nearly 19,000 nonprofit organizations in the United States alone working to strengthen and equalize public education. You can read a full report put out by the Urban Institute detailing their activities. Remember not all advocacy groups are created equal. Many of the new ones are actually promoting privatization, charters, vouchers, and other actions that de-professionalize and make the educational playing field unequal. The Death and Life of the Great American School System by Diane Ravitch and her commentaries may offer insight into the political dynamics at play. If you don't have the bandwidth to read the Urban Institute report, Dr. Ravitch's book,  or to evaluate all the organizations, below is an unvetted short list of the biggies. Whatever you do, get involved. Y/Our future is at stake.
1. National Education Association
3. National Public Education Support Fund
4. Association of American Educators