Listen to "Fluoride: Friend or Foe?"

Podcast: Play in new window | Download (Duration: 53:42 — 49.2MB)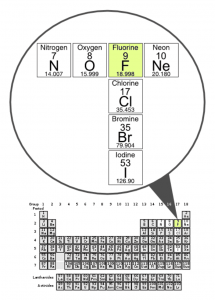 Fluoride. Some consider it a fantastic friend for preventing dental cavities and as such advocate for the fluoridation of municipal water supplies. Others consider water fluoridation as mass medication and are opposed to the use of hazardous industrial fluoride waste as a source of the fluoride put in municipal water supplies. In this episode Dr. Howard Pollick, Professor of Preventive and Restorative Dentistry at the University of California San Francisco, explains what fluoride is and where it comes from. He tells us about the chemistry, physiology, and toxicology of fluoride. Ms. Carol Vander Stoep, a Registered Dental Hygienist and author of "Mouth Matters: Healthy Mouth, Healthy Body", did a turnaround from being a supporter of fluoridation of public water supplies to believing it is unnecessary. She shares some of the controversies around fluoridation of municipal water supplies. Historian Timothy Siebert tells us a bit about how Stevens Point, Wisconsin took the limelight in 1950s in the national debates in the United States about fluoridation of municipal water supplies. Apparently the city had started fluoridating the water supply. Many citizens protested. In a referendum the citizens voted 2 to 1 against fluoridation. Some years later, the city started fluoridating the water again. Further historical dredging will be required to discover exactly how that happened without another referendum, and why.
Hallowed be the Halogens
Fluorine, Chlorine, Bromine, Iodine
Even unstable, rare, hot Astatine
All familiar to thine eyes
as solids, gases, liquids
and plasma
Even at standard conditions
Acidic in bondage
Typically salted
Cleansers of much
Except our sins
All of them toxic by dose
-jaysi 2014