Listen to "Trick-or-Toxin"

Podcast: Play in new window | Download (Duration: 10:17 — 9.4MB)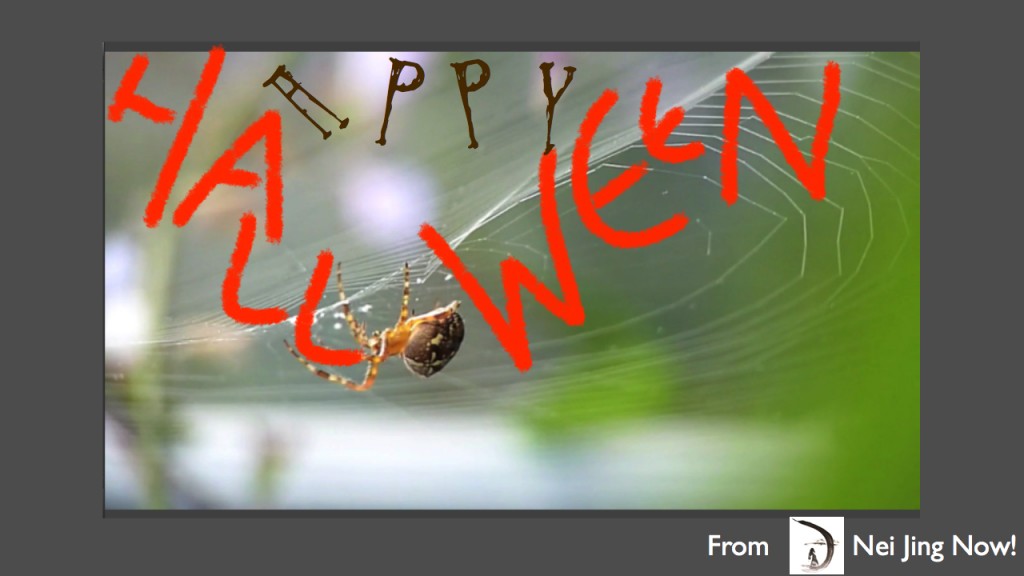 On Halloween Eve, All Hallow's Eve, thousands of children all across North America disguise themselves in costumes and go door to door, often with their parents, ringing doorbells, chorusing 'Trick-or-Treat' by way of offering an idle threat to perform a trick of mischief if not given a treat of a sweet. Children usually go home with more candy than they could ever eat, and often end up with a stomach ache that night. Even if they manage to sparse it out over days or weeks, it is still way too much sugar, poor quality fats, artificial colors, artificial flavors, and preservatives, all wrapped in plastic, non-biodegradable wrappers. Not much of a treat. More of a toxin.
All that sugar is not good for children, or adults for that matter. We've got an epidemic of childhood obesity and diabetes in the USA. According to the data from the National Health and Nutrition Examination Survey about 17% of children and teenagers between the ages of 2 and 19 years are obese! That's approaching 1 in 5. Obesity rates among children have tripled in the last three decades. The country is overfeeding it's kids.
The Centers for Disease Control and Prevention (CDC for short) funded research on childhood diabetes finds that clinicians are diagnosing more children with Type 2 diabetes, a disease normally found in adults over 40.  Too much screen time, not enough exercise, combined with the epidemic of obesity likely account for the increase in Type 2 diabetes we are seeing in children.
Dr. Danny Gilchrist, a dentist in Stevens Point, Wisconsin, with inspiration from his office manager, Stephanie, decided to do something about the Halloween toxic overload. It's a fantastic
harm reduction scheme. The day after Halloween he buys back candy from the children at the rate
of $1/pound. Last year he collected 200 pounds of candy, boxed it up, and shipped it off to Operation Gratitude to be included in the care packages they send to overseas military troops. Buying candy back from the kids is a great way to lighten the sugar load. Fewer belly aches and fewer dental cavities. Fewer sugar highs and lows, with their associated hyperactivity and mood disturbances. In the long haul it probably won't have much effect on obesity or diabetes rates, but it sends a clear and strong message that candy is not good for you. It's a poison.
Last year Operation Gratitude collected 127.5 tons of candy. Tons, not pounds. Tons. My question is whether all that candy is good for the troops either. Being on active military duty overseas is stressful. Violence creates a toxic environment. Veterans are coming back traumatized with symptoms of post traumatic stress disorder. Besides coming home soon, they need care, protection, and good nutrition. Though I'm sure the troops appreciate and enjoy the candy, they would probably benefit more from fresh organic vegetables than highly processed sugar bombs. In any case, the intention is sweet. And the pun is fully intended.
The tradition of begging for candy on Halloween Eve is said to originate from the late medieval practice of children and poor folk going door to door singing prayers for the dead on the evening before All Hallow's Day, or Hallowmas, traditionally a day to remember the deceased, including the saints and martyrs. Homemade "soul cakes" filled with sweet spices, raisins, and currants, topped with the mark of a cross to signify were given out to the "soulers." In our current era, manufactured, pre-wrapped candies are given for fear that some crazy sociopath could intentionally poison unwrapped treats with toxins, other than sugar.
I'm putting a call out to you, the Nei Jing Now listeners and readers, to offer ideas about how to further develop the Trick-or-Treat tradition. What treats could we give out that are less toxic? Treats that are not basically boluses of sugar flavored with chemicals. Treats that can be packaged in a biodegradable wrapper. And until the time that your ideas for the new and improved Halloween treats become massively popular, what should we do with all that bought back candy? Should it all go in a landfill? Should we find colonies of ants that can use it? Last year I saw a news clip in Wisconsin describing farmers mixing tons of leftover candy corn, that treat that none of the kids like, into feed for cows. Just what we need, diabetic cows!