Listen to "Star Trek in Havana: Have Enterprise, Will Travel!"

Podcast: Play in new window | Download (Duration: 6:44 — 6.2MB)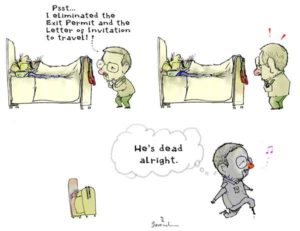 Star Trek in Havana; Have Enterprise, Will Travel! Coming soon to an island near you! Cuba, Opening January 14, 2013. Cuba not only opens its borders to its own people on January 14 but is also now allowing its citizens to engage in privately owned businesses. It seems a brave new world is emerging from every corner of the globe.  Misogyny is dying in India, the Great Patriarchy is passing in Cuba, or may have already passed.
Viena Garcia, a computer programmer was traveling through California to attend a conference, and told me about the new and exciting changes happening on the island off the coast of Florida.  Previously Cubans were not allowed to travel outside of their own country without an invitation from someone who would sponsor their travel expenses, and without permission from the government to exit the country.  Starting tomorrow these requirements are evaporating.  People now can stay outside of Cuba for 2 years without consequence.  In addition, people who previously had defected from Cuba are now free to come back to their homeland.  These people had left at a time when to leave without permission meant you could never return.  You had to leave all your belongings that you could not carry with you.  Your property became property of the government.  This new freedom is a huge step towards relieving the oppression so many of the people have felt. The previous restrictions were likely in place because the government invests a lot in the education of the people. The country doesn't want to see the "brain drain" occur in Cuba that has occurred in other places, like India.  Also, since previously private enterprise was not allowed, disposable income to travel was not available, and thus a letter of invitation from a sponsor ensuring that the Cuban traveler would be well hosted seemed like a reasonable thing for a caring and protective father to require. Yet, it seems like the shift from patriarchy is starting now everywhere all over the world! Cubans are going to love their new freedoms and are likely to continue celebrating everything for any reason at all. Bring on the salsa!