Listen to "The Rich Heritage of the Poor Turkey"

Podcast: Play in new window | Download (Duration: 18:38 — 17.1MB)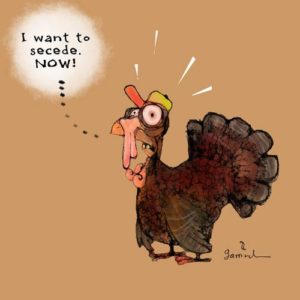 Professor Neil Prendergast (say that ten times fast, with a mouthful of turkey, squash, or pumpkin pie) is a history buff and a turkey-o-phile.  He's fascinated by the history of turkey farming in the United States.  He explains the relevance of women's turkey raising practices in the 19th century to current farming systems and the need to move towards more ecologically integrated agricultural techniques.  The "professionalization" of our knowledge systems has disintegrated our holistic approach to the natural world and where our food comes from.  This is demonstrated, using the turkey as an example, through the differing attempts to resuscitate the wild turkey population by wildlife biologists, and the domestic turkey population by the agricultural scientists.  To top it off we must also contend with market driven cultural traditions. Even so, I warmly wish each of you a very happy, meaningful, and thoughtful Thanksgiving weekend.  Eat well (and consciously), be grateful (for everything), and enjoy yourselves (thoroughly)!