Listen to "Genuine Progress with Obama?"

Podcast: Play in new window | Download (Duration: 16:33 — 15.2MB)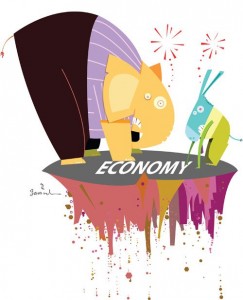 Thank the Universe the elections in the United States are over!!!  We can finally get back to work and play.  So what's next? How are we going to know if we are making Genuine Progress? How will we know if we are better off, healthier, and happier in the upcoming years? We still have a lot of issues to address including, but not limited to, the economy, our environment, growing income inequality, social cohesiveness, health, and happiness.  The world's economy is on shaky ground.  The foundation is flawed and the measures of success faulty.  Not only do we need a new approach for sustainable social and economic growth and development, but we also need a new method of measuring our progress.  The Genuine Progress Indicator is one such method which can, and likely should, be used in place of the Gross Domestic Product.  Vermont is the first state in the USA to adopt this index as a way of assessing economic progress.  Bhutan uses the Gross National Happiness index to measure and guide development.  Professor Dennis Riley, political scientist at the University of Wisconsin-Stevens Point, offers his perspective on the concepts in these indices and the next four years with Obama.