The 2012 Summer Olympic Games have begun!  I'm more aware of the excitement and buzz this year than I have been in the last decade or so.  I've been almost too busy with my own training in the forms I practice to notice the Olympics.  I'll admit the performance of the Olympic athletes has always motivated me to practice and train with more dedication and devotion.  As a kid I found myself drilling front and back walkovers on and off the couch with more earnestness after the Olympic gymnasts displayed the incredible possibilities that lie within our human forms.  The Olympic Games demonstrate the immense potential of human performance and unity.  It's a spectacle of the pinnacles of strength, speed, agility, flexibility, and vitality in which race, gender, and nationality are no bar.
This year Olympic kayak competitor Josefa Idem, age 47, offers an inspiring example of the level of fitness we can maintain throughout our adult lives.  Fitness is determined by lifestyle, not age.  As she's being interviewed about her remarkable history of participating in eight Olympic competitions she admits that prior to recent media attention she never had the notion she was a "mature" athlete.  She never even thought about her age.  The field of gerontology is also now describing how aging stereotypes are internalized and subsequently correlate with physical and cognitive aging effects.  Aging is in the mind, not in time.  Josefa Idem is one amongst us who doesn't think about age and so she doesn't.  She just does what she loves.  Two years ago the 2010 Winter Olympics sported a 47 year old luger; Ruben Gonzales had four Olympic competitions in three different decades under his belt.  And amongst us are a smattering of octogenarians still dancing and centenarians running marathons.  We read about them, watch their videos, and are stirred.  Competing in the Olympic Games requires an awe-inspiring level of fitness and focus rooted in resolute mental and physical discipline.  And the high standard set for the behavioral conduct of the athletes endows an air of idealism to the Games which gives us some kind of hope about the future of humanity.  Whenever these codes are violated by an Olympic athlete our hearts sink a bit.  Our hopes are buoyed by the rest of them, and us, who train and perform with grace and integrity.
The spirit and nature of the Games has changed over the years.  I suppose all things evolve, or devolve, as the case may be.  I remember when the Olympic Games were for amateur athletes only.  Even athletes who earned their living teaching their sport were not allowed to compete.  Athletes relied on support from family members, wealthy fans, and patrons in order to commit themselves to training.  In 1986 the International Olympic Committee deleted the distinction between the amateur and professional athlete.  This has significantly impacted who can dream about competing in the Olympics.  Pierre de Coubertin, the founder of the modern Olympic Games, had envisioned a pure apolitical arena in which amateur athletes indulge in the unadulterated joy of competition.  He wanted the Olympic Games to have an important role in promoting cross-cultural friendships, transnational understanding, and world peace.  As an educationalist, de Coubertin understood that athletic endeavors build character and create moral and social strength.  Exercise, including competitive sport, equilibrates the mind and body.  Yet, my contention is that unhealthy competitiveness does the opposite.  It skews the perspective on the sport and winning becomes everything.  Professional athletes come with corporate sponsors, advertising, commercialism, and an unhealthy emphasis on winning.  After all, that's what they are getting paid for.  They are getting paid to win because the winners sell more stuff.  And not only must they win, but they must win the gold medal.  A silver or bronze medal is not considered a win.  (What planet are we on where a silver or bronze at the Olympic Games is not considered a win?!  On my planet qualifying for the Olympic Games is a win.  Trying out for the Games is a win.  Training for the try outs is a win.  And in some spheres walking half an hour once a day is a win.)  With this skewed approach to competition is it any wonder that some athletes are doping or cheating for any advantage they can get?  Poor Pierre is surely rolling in his grave; his philosophy was that the game was more important than winning.
     "L'important dans la vie ce n'est point le triomphe, mais le combat, l'essentiel ce n'est pas d'avoir vaincu mais de s'être bien battu.
     The important thing in life is not the triumph but the struggle, the essential thing is not to have conquered but to have fought well."
The idealism of this summer's Olympic Games feels soiled from the start.  I understand that organizing such a grand competition takes a lot of money.  But the choices the International Olympic Committee (IOC) made for the official sponsors of the Games this year is, well, um, what's the word, diabolical perhaps.  Some of the companies practice their commerce in ways that are completely antithetical to the tenets of the Olympic Charter.  They are anti-health, anti-people, anti-environment, and anti-human rights.  In mid-July the London Assembly urged the IOC to consider the environmental, social, ethical, and human rights records of companies bidding for partnership and sponsorship of the Games.  At the same time that the IOC was getting the clear message from the London Assembly, peaceful activists performing street theater in protest of Dow's sponsorship were getting arrested.  One of the acts involved a metaphorical enactment of Dow's attempts to "greenwash" its image which involved pouring green custard over an actor representing Dow.  The actors were arrested because some of the green custard fell on the ground!  What planet are we on?!
Here's some food for thought about three of the Worldwide Top Partners of the 2012 Summer Olympic Games in London:  Dow, McDonald's, and Coca-Cola.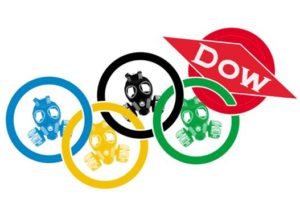 Dow Chemical Company is the maker of dioxin, commonly known as Agent Orange.  Dioxin is an extremely toxic and highly persistent chemical that causes reproductive problems, fetal developmental abnormalities, immune system dysfunction, hormonal imbalance, and cancer.   In May of this year, just prior to the inauguration of Summer Olympics in Athens, Greece, the government of Vietnam expressed to the International Olympic Committee the "profound concerns of the Government and people of Viet Nam about the decision of IOC to accept the Dow Chemical Company as a global partner sponsoring the Olympic Movement."  The Vietnam Women's Union made an urgent appeal to Lord Sebastian Coe, chair of the London Olympics organizing committee to reconsider the decision to accept Dow Chemical Company's sponsorship.  The letter pointed out that nearly 5 million of the surviving victims of the mass dumping of Agent Orange during the war on Vietnam are children.
Dow Chemical Company also now fully owns Union Carbide the company responsible for the 1984 Gas Disaster in Bhopal, India.  I am particularly perturbed about Dow's partnership with the IOC because of their liability for this tragedy and their unwillingness to take responsibility for caring for the people who are still ill.  This was the world's largest industrial accident.  It exposed 500,000 people to a deadly mixture of gases containing methylisocyanate.  Conservative estimates are that 3,000 people died that same night and over 20,000 people have died to date.  I have volunteered my services as a physician serving the survivors at the Sambhavna Trust Clinic in Bhopal for nearly a year.  I saw with my own hands and cared with my own heart for the survivors who are still suffering from many diseases including respiratory, neurological, psychological, and reproductive.  Children born to the survivors are now manifesting neurodevelopmental problems.  The groundwater and soil in the area of the abandoned factory is still contaminated and the people are still seeking justice.  Wikileaks revealed in February that Dow had hired a private investigative agency in the United States, Stratfor, to monitor activists in Bhopal protesting Dow's sponsorship of the 2012 Summer Olympic Games.  George Hamilton, a Dow chemical executive in charge of its Olympic operations unhesitatingly stated, "This is an investment, not a sponsorship."
If Dow's record in Southeast and South Asia is not enough, just last year they were named the second worst polluter of toxic chemicals in the United States and were fined $2.5 million for violating the Clean Air Act.  In fact they've been fined for violating many environmental and health laws in the past five years.  I guess it is cheaper for them to pay fines than to clean up their act.  They are also a major military defense contractor, as is General Electric, another Worldwide Top Partner of the Summer Olympics this year.  And to top it off they don't practice gender equity.   So what's with allowing Dow to wrap the Olympic Stadium with a huge plastic banner with their name on it?  What a royal waste of plastic.
McDonald's influence on our food system and the negative impact on our personal and public health should not be underestimated.  McDonald's demands high volumes of beef, chicken, potatoes, and tomatoes to serve in its 33,000 restaurants worldwide.  It has unparalleled clout in influencing food production processes.  Monsanto, Tyson, ADM, and Cargill will do anything to meet the needs of McDonald's.   The immense scales of consumption (and waste) lead to unsustainable environmentally damaging agricultural practices that impact most of the conventional food supply in American grocery stores.  Last year an open letter to McDonald's signed by 550 health professionals in the United States asked McDonald's to stop marketing junk food to children and worsening our obesity epidemic.  This epidemic is not limited to America.  Even people in developing economies that emulate the American sedentary lifestyle of office work, car culture, screen based entertainment, and fast food dining are also developing the triad of diabetes, hypertension, and high cholesterol, at alarmingly high rates.  McDonald's has responded to public criticism of its methods by "nutri-washing" its image.  It now offers oatmeal and strawberry lemonade, each with loads of sugar.  The Federal Trade Commission and the White House are recommending a halt to food advertising targeted to children.  Currently all they've been able to enforce are voluntary guidelines for the nutritional value of foods marketed to children.
Last, but not least, Coca-Cola, the company that has niggled itself into every corner of the world.  Coca-Cola is also responsible for the rising rates of diabetes worldwide.  Let's not forget to mention tooth decay as well.  They have also engaged in unfair labor practices in Colombia and abuse of water sources in India.  The expansion of the marketing reach of Coca-Cola, Pepsi, and McDonald's to developing economies has been associated with a rise in rates of diabetes and obesity in these nations.  Although association doesn't necessarily equal causation, it is still noteworthy.  Currently, about 25% of children under the age of 5 worldwide are overweight and 75% of these fat kids live in low and middle-income countries.  Coca-Cola, along with PepsiCo, has blatantly tried to pre-empt policies aimed at curbing junk food marketing to children.  These companies are employing elaborate and expensive campaigns to buff up their image.  They deny their role in the obesity and diabetes epidemics by using arguments similar to those used by the tobacco industry to shift responsibility back to the consumer.  True, personal responsibility is crucial.  Yet Coco-Cola still aims to increase its sales of sugared sodas by "sugar coating" its own image through the Live Positively campaign and marketing to teenagers.  And now, they just got an extra layer of frosting by partnering with the Olympics.  Someone ought to survey the athletes to find out how many of them actually put this poison in their bodies.
While public health advocates in the United States have dubbed sugared sodas "Public Health Enemy No. 1," Coca-Cola, along with PepsiCo, Nestle, and Danone, are turning to marketing bottled water with a special emphasis on selling to minorities in America.  Bottled water is not cleaner or healthier than tap water in America.  In fact, a Natural Resource Defense Council investigation found that nearly 20% of bottled water in the US had bacterial loads deemed unsafe and about 20% contained toxic chemicals such as arsenic.  Bottled water is a superfluous commodity with damaging environmental consequences and a lot of plastic waste.  Minority households are spending about 1% of their income on something completely unnecessary.  Many municipalities in Canada are taking the lead by banning bottled water.  The Big Four bottled water companies (Coca-Cola, Pepsi, Danone, and Nestle) are fighting back with anti-tap water campaigns which include lobbying, legal threats, and false advertising.
The International Olympic Committee is charged with the responsibility of protecting the Olympic Charter.  So let's take a moment to review it. According to the Official Olympic Charter, the fundamental principles of Olympism are:
     1. Olympism is a philosophy of life, exalting and combining in a balanced whole the qualities of body, will and mind. Blending sport with culture and education, Olympism
seeks to create a way of life based on the joy of effort, the educational value of good
example, social responsibility and respect for universal fundamental ethical principles.
     2. The goal of Olympism is to place sport at the service of the harmonious development
of humankind, with a view to promoting a peaceful society concerned with the
preservation of human dignity.
     3. The Olympic Movement is the concerted, organised, universal and permanent action,
carried out under the supreme authority of the IOC, of all individuals and entities who
are inspired by the values of Olympism. It covers the five continents. It reaches its
peak with the bringing together of the world's athletes at the great sports festival, the
Olympic Games. Its symbol is five interlaced rings.
     4. The practice of sport is a human right. Every individual must have the possibility of practising sport, without discrimination of any kind and in the Olympic spirit, which
requires mutual understanding with a spirit of friendship, solidarity and fair play.
     5. Recognising that sport occurs within the framework of society, sports organisations
within the Olympic Movement shall have the rights and obligations of autonomy, which
include freely establishing and controlling the rules of sport, determining the structure
and governance of their organisations, enjoying the right of elections free from any
outside influence and the responsibility for ensuring that principles of good governance
be applied.
     6. Any form of discrimination with regard to a country or a person on grounds of race,
religion, politics, gender or otherwise is incompatible with belonging to the Olympic
Movement.
     7. Belonging to the Olympic Movement requires compliance with the Olympic Charter
and recognition by the IOC.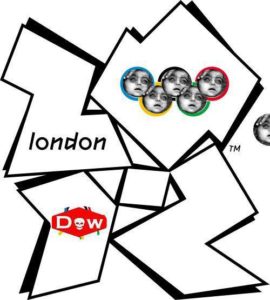 So, the Olympic Games aim to promote peace through sports.  Yet ten of the top Olympic sponsors are military contractors.  The Olympic Games aim to promote health.  Yet, toxic polluters and junk food vendors are among the top Olympic partners.  The Olympic Games aim to promote stewardship of the environment.  Yet, three of the top Olympic partners are blatant toxic polluters:  Dow, as above; General Electric is linked to 115 Superfund sites in the USA; and Proctor and Gamble sells 220 consumer products containing cancer causing chemicals.  The Olympic Games aim to promote equality.  Yet, not one of the top Olympic sponsors has gender equality in their board rooms and less than 1% of all National Olympic Committee presidents or secretaries are women.
Even though I'm more excited about the Olympic Games this summer than I have been in a long time, that doesn't mean I am going to sit on my couch and watch the competitions on television.  First, I don't have a couch.  Second, I don't have a television.  Third, I prefer to play rather than watch.  And fourth, the nationalistic fervor the media promotes is completely antithetical and counterproductive to achieving world peace.  Besides the distorted emphasis on winning the gold medals, the national chauvinism, particularly in the United States, exacerbates the false notion that the interests of one's own nation are separate from the interests of other nations, or the common interest of all nations.  The Games are meant to inspire us to befriend each other, to feel as one with each other, and to feel proud of each other and our capacity as humans to achieve great heights.  I prefer to minimize my couch and screen time instead of watching the Games through the warped lens of corporate media outlets.  The mere existence of the Games and the concepts that originally inspired them are enough to impel me to invest my own sweat into striving for the pinnacle of my own potential on my own planet.  I wish the same for each of you.
If you'd like to support the people most vocal about the corporate sponsorship choices of the International Olympic Committee please contact The Bhopal Medical Appeal and Athletes Against Dow.  If you have any thoughts, reactions, questions, concerns, or complaints about what you have just read, I welcome you to share your perspective on this post or send me a message through the contact form on this site.