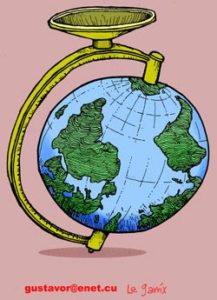 The Sustainable Development Dialogues at Rio+20 in Riocentro, Brazil begin tomorrow, 16 June 2012.  You can watch the live broadcast of the debates through the UN website.  In order to allow greater participation from the wider public the United Nations Development Program helped launch a digital platform at Rio Dialogues.  You can join the Rio+20 Dialogues yourself by clicking here.
Prior to the conference over 10,000 participants from various disciplines in civil society, academia, non-governmental organizations, and the private sector, facilitated by academics from renowned institutions, brainstormed to produce 10 recommendations to the conference in 10 topic areas.  The greater public was invited to vote on these recommendations.  Based on the votes 30 of the 100 recommendations will be chosen to be conveyed to the decision makers at the Rio+20 Conference.
The recommendations are very progressive.  (There was no participation from Governments or UN agencies in the development of these recommendations.)  The recommendations reflect the Nei Jing Now perspective that health and medicine include the social and political sciences and that, to quote the 19th century physician, anthropologist, pathologist, historian, biologist, and politician Dr. Rudolph Virchow, "politics (is) nothing but medicine on a grand scale."
Here are several of the recommendations that reflect the Nei Jing Now perspective very clearly:
Integrate social equity in the design and delivery of public health services and systems.
Ensure universal health coverage to achieve sustainable development.
Promote global education to eradicate poverty and to achieve sustainable development.
Reduce poverty by promoting biocultural diversity, linguistic rights, intercultural dialogue and by means of a neutral international language.
Ensure economic empowerment to promote self-reliance.
Put education in the core of the Sustainable Development Goals agenda.
Promote a holistic approach to sustainable development, taking into account environmental, economic, political and social aspects.
Use health related indexes to measure progress towards sustainable development.
Include environmental damages in the Gross National Product (GNP) and complement it with measures of social development.
Put water at the heart of future development goals.
Promote sustainable water usage and health. People need access to sustainable water and hygiene to ensure the sustainable growth of a nation.
Adopt more ambitious global policies to address the needs for water that is really safe and for sanitation.
Improve water and sanitation facilities to ensure the education of children.
Secure water supply by protecting biodiversity, ecosystems and water sources.
Implement the right to water.
Build a common vision and adopt an action plan at the global level regarding wastewater management.
Ban the use of Gross Domestic Product (GDP) as a measure for social progress.
Promote inequality reduction as a major goal in the agenda of international organizations.
Promote tax reforms that encourage environmental protection and benefits the poor.
Promote alternative crops for tobacco monoculture to ensure health, food sovereignty and decent jobs.
Eliminate misery and poverty-rooted malnutrition.
Promote integrated planning and greater cross-system coherence across the global food security agenda, based on closer coordination between the food, energy, water and environmental policy sectors.
Establish programmes to anticipate and prevent food security challenges related to climate change and natural disasters.
Promote food systems that are sustainable and contribute to improvement of health.
Avoid ocean pollution by plastics through education and community collaboration.
Monitor and promote international coordinated research on ocean acidification and its effects on marine life and ecosystems.
Ensure all jobs and workplaces meet minimum safety and health standards.
Advance women's empowerment principles as a way to advance the sustainable development agenda.
Compel national governments to respect the human rights of migrants in Temporary Foreign Worker programs.
Governments to commit to a Social Protection and Decent Work for all goal by 2030, including access to health, unemployment, ill health, maternity, child protection and disabled people.
Establish a mechanism under the United Nations, similar in function to the World Trade Organization, to negotiate a lowering of barriers to immigration and to allocate environmental migrants equitably among countries able to receive them.
Include care for aging populations in the international framework for sustainable development.
Improve human capital by promoting access to health, including reproductive health, investment in education and empowerment of women.
Promote culture, diversity and creativity as a core element to build sustainable cities.
Plan in advance for sustainability and quality of life in cities.
Create incentives to encourage work from home. (Commuting is for the birds.)
Establish ambitious targets for moving towards renewable energy.
Promote the use of sustainable energy and energy access as a public health policy.
Take concrete steps to eliminate fossil fuel subsidies.
Encourage the use of bicycles. (This is one of my favorites!)
Nei Jing Now would like to hear your perspective on sustainable development, these recommendations, and how it all relates to health and well-being.  Tell us which recommendations are your favorites.  Or do you have any recommendations of your own?  If you participate in the dialogues or simply watch the debates please share your thoughts on the discussion here.  Your viewpoint counts.