Listen to "Moving On…To Bowel Habits"

Podcast: Play in new window | Download (Duration: 59:30 — 54.5MB)
We are moving on to bowel habits.  Doctor Jan Gurley will give us an overview of the gastrointestinal tract, and Doctor Nripendra Dhillon goes into further detail about anatomy and how things work.  And then someone I know generously shares  with us her observations of how things go for her.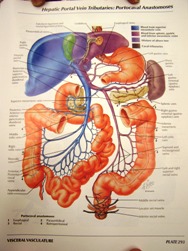 they say i am beautiful
but beauty fades
they say true beauty
is on the inside
but if i look
inside i see
pink glistening intestines
moving, writhing,
scarlet blood
yellow greasy omentous fat
green slimy bile
soupy oily chyme
liquidy secretions
slippery mucus
crimson flesh
a plump pancreas and
a smooth shiny liver
wormy guts full of
brown pungent feces
and malodorous gas
i am indeed
truly beautiful
wondrously so
and this beauty too shall pass
(especially the gas)
-jaysi, 2009